I was obviously confused about when this blog hop was going to start soooo, those of you looking for our mentor text linky, please check back tomorrow! I will post it in the morning. Sorry for any confusion!! I think I need a secretary! I hope being on spring break will lift the fog on my brain this week!
Get Ready for Bloggy Olympics!!!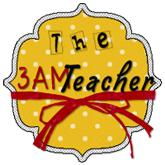 Join The 3AM Teacher, the Reading Olympians, and over 80 SUPREME education bloggers as we take you through a tour of the Reading Olympians Root Study Program!!
When I saw the opportunity to participate in this product review, I was excited because we do Greek and Latin roots in our district instead of spelling. I was hoping for a resource that would provide more opportunities for the students to get grades, along with other activities.
This resource is set up in units of ten roots. Unfortunately, our district gives us specific roots for each nine week period and the students are responsible for those for each nine week benchmark test. My district's order is not in the same order as this unit so I did some finagling to get the specific roots I needed for certain time periods.
This did not deter me, though. I just went to work printing the pages that our grade level is responsible for and coming up with a plan on how I could incorporate this with what we were already doing.
We are in super review mode for the state test so I wanted to use these to review what we had already learned. I liked that they were seeing it in a different way than how our other program presented it so that the review was not as "boring" for them.
Here is a picture of the webs that are in the packet. There are 2 to a page and I cut them up and put the ones that I needed together. I could use this to get a grade since I've already taught these roots this year. However, if I had never taught roots, I would have them paste these in their notebooks (or put them in their binders- whichever you use) for future reference.
My favorite part of this resource were the Root Raps. Each root has a rap that goes along with it. We sing a LOT in my class and so my kids are totally used to it. When I introduced the raps to them, they were very excited!! I think it just helps them remember skills so much easier when you can put it to a rhythm.
I photocopied the word cards for each root and then photocopied the rap for each word on the back so they were together. Then, we put them on rings.
These are two different cards.
The ability for the students to have access to these at all times is very helpful. In the resource, there are also word wall cards. I love that idea (right now, all of the roots we've learned are on a piece of chart paper) and I would have had the students create a word wall except we have to take everything down next week for state testing. However, we may work on that AFTER the state test, just for fun!
I appreciate these ladies letting us take part!
Amanda
Discover the program IN ACTION in more K-6th grade classrooms as you Pass the Torch!! Get ideas, discover the progression of the program, and enter the Raffle for a chance to win ONE of the three prizes listed below!!
First Place Winner : Gold Medal
Prizes: Complete Reading Olympians Program
$50.00 Amazon Gift Card
50% off Discount Code for a 1-Day shopping spree at The 3AM Teacher's Etsy store!
Second Place Winner: Silver Medal
Prizes: $25.00 Amazon Gift Card
40% off Discount Code for a 1-Day shopping spree at The 3AM Teacher's Etsy store!
Third Place Winner: Bronze Medal
Prizes: 30% off Discount Code for a 1-Day shopping spree at The 3AM Teacher's Etsy store!
Pass the Torch!!!
Click the image below to visit the next blog
Kindergarten:
Grade 1 & 2
Grade 3 & 4
Grade 5 & 6
a Rafflecopter giveaway
Follow my blog with Bloglovin